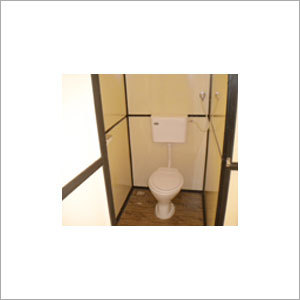 Mobile Toilets
Product Code : MT
Product Description
The company steadfastly slog away to gather variant degree of expertise in fabricating splendid architecture of pre-fabricated Mobile Toilets which are fitted with all required accessories including mirrors, towel stands, soap case stand other washroom fittings. Our Mobile Toilets are made out of the good-quality raw material, the toilet is further integrated with the separate reservoir for waste water and other refuses which are drained away by a valve. Being inexpensive and impressively designed, these toilets have usage in public places, the place of pilgrimage and the road side where there is no arrangement of drainage system.
Feature:
Modern
Economically Priced

Durable

Spacious For Sitting
We hold expertise in designing and developing highly useful array of modern Mobile Toilets, which is provided with mirrors, towel holders and other important washroom fittings. Constructed using finest quality raw material, the toilet comes integrated with separate tanks for storing waste and water which is emptied by a valve. Economically priced, these toilets find usage in public meetings or pilgrimage places where there is no facility for proper drainage.
Contact Us
Mateen Appartment, No. 206, Sanjay Nagar, Near Mek Industrial, Old Bombay Pune Road, Mumbra, Thane, Maharashtra, 400612, India
Phone :+918061856752